trade in specific items found in tower chests to get different rewards.
Requirements
Edit
Hero Level 10 and higher
Chop Chop Items
Edit
The two items that can be traded in are:
These items can be found in tower chests and as a reward for completing the tower.  You will still get a card reward for completing towers and opening chests, but there is no guarantee that you will find any Teeth or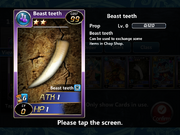 Bones.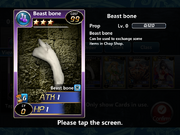 Redeeming Items
Edit
Chop Chop items are redeemed at the Chop Shop and the cards are  valued at:  *Beast Teeth = 1 point

| Points | Reward |
| --- | --- |
| 5 | 50,000 Gold |
| 10 | 2 Magic Coupon |
| 20 | 5 Fine Turkey |
| 40 | 200,000 Gold |
| 60 | 3 Magic Coupons |
| 80 | Mariner |
| 100 | 500,000 Gold |
| 120 | 5 Magic Coupons |
| 140 | 150 Crystals |
| 160 | Cactus Lass |
| 190 | 1,200,000 Gold |
| 220 | 10 Magic Coupons |
| 250 | Forest Cupid |
| 280 | 500 Crystals |
| 310 | Lion-Lady |
| 340 | Faun Warcall |
| 380 | Voi |
| 420 | 1000 Crystals |
| 460 | Voi |
| 500 | Lich Lord |
 The Chop Chop is an event that has users